Monday to Friday, 10:00 am–4:00 pm
Free (BC Archives Lobby)
This BC Archives display gives us the opportunity to share our records, new donations and ongoing projects that help tell British Columbia's story. The BC Archives display is located in the lobby of the BC Archives, beside the Royal BC Museum.
Current Display
Gonzales Hill and the Victoria Sphinx
July 2, 2018 – September 28, 2018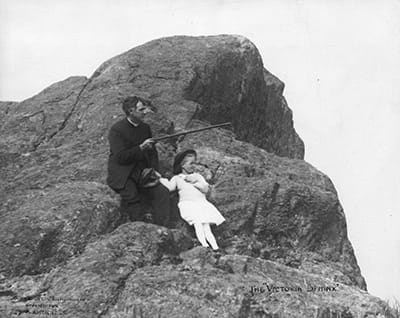 Victoria has its own sphinx, perched on top of Gonzales Hill.
Unlike the well-known figure in Giza, the Victoria Sphinx is a natural rock formation. According to his August 29, 1920, article in the Daily Colonist, A.R. Hennell was the first person to call the formation the Victoria Sphinx. He discovered it while sketching and photographing the 'Giant Gonzales', a larger rock formation on Gonzales Hill said to resemble a face.
In his article, he claims that while he was climbing Gonzales Hill, the nose of the Giant Gonzales "was transformed before [his] very eyes into a perfect female head just like a sphinx".
You can still see this rock formation on Gonzales Hill in Walbran Park.
Come and see a reproduction of A.R. Hennell's watercolour of the Victoria Sphinx.
Want to see more from A.R. Hennell?
The Giant Gonzales… (PDP01194)
The 'Giant Gonzales' smiles (PDP01193)
The Giant Gonzales whose nose is the Victoria Sphinx (PDP03138)
Upcoming Displays
Cedar, Shake, and Shingle Bureau fonds
Oct 1, 2018 – Dec 28, 2018