Monday to Friday, 10:00 am–8:00 pm
Free (BC Archives Lobby)
This BC Archives display gives us the opportunity to share our records, new donations and ongoing projects that help tell British Columbia's story. The BC Archives display is located in the lobby of the BC Archives, beside the Royal BC Museum.
Current Display
Cedar Shake and Shingle Bureau
October 1, 2018 – December 28, 2018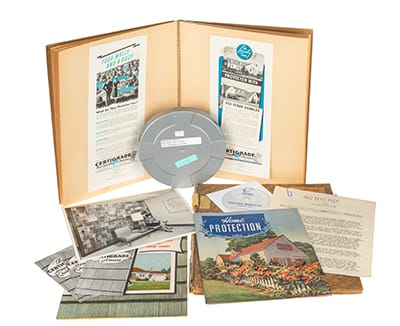 The BC Archives' recent acquisition of the Cedar Shake and Shingle Bureau's records provides an in-depth history of the development and operation of the shake and shingle industry across the west coast of North America.
The Cedar Shake and Shingle Bureau (CSSB), which is still in active operation, is a non-profit organization that traces its origins to 1915, when the West Coast Lumbermen's Association created its "shingle branch" to better manage the North American shingle market. The association aimed to extend their market by promoting quality products, fighting unjust building codes and educating the public about the beauty, utility and grading of red cedar shingles.
As well as demonstrating the diversity of our holdings, this collection shows some of the different formats the BC Archives acquires and preserves. It consists of 6.1 metres of records, including textual and graphic materials, photographs, moving images and objects. The collection was generously donated by the CSSB in 2014 and 2017.
Come and see a selection of items from this unique collection.
Want to see more from the Cedar Shake and Shingle Bureau?
Cedar Shake and Shingle Bureau fonds (PR-2338)
Celebrating 100 years : 1915-2015 : a history of the Cedar Shake and Shingle Bureau (NW 634.980 C554)
Upcoming Displays
BC Archives 125th anniversary
January 2, 2019 – March 29, 2019