The Royal BC Museum anchors an area bounded by Douglas, Belleville and Government Streets, steps from Victoria's Inner Harbour and across the street from BC's Legislative Buildings. This cultural precinct includes Helmcken House, St. Ann's Schoolhouse, the Netherlands Carillon, Thunderbird Park and Mungo Martin House, Wawadiťła.
Want to take a close look at the cultural precinct? Explore.

Wawadiťła
When it was constructed in 1941, Thunderbird Park featured a Northwest Coast-style house with an inaccurate frontal painting produced especially for the building, as well as original carvings from many different First Nations, all put together in an inauthentic way. Chief Nakaṕankam (Mungo Martin), a Kwagu'ł artist from Tsaxis (Fort Rupert) who was considered the finest Kwakwaka'wakw carver of his day, made this new house in the park. Wilson Duff, the museum's Anthropology Curator at the time, stressed that this house, unlike the previous one, was culturally appropriate and accurately portrayed First Nations traditions. Moreover, these were not dead traditions consigned to the past, but still active features of First Nations culture in British Columbia. "This house is more than just an authentic Kwakiutl house," wrote Duff when the new house opened in 1953. "It is Mungo Martin's house and bears on its house-posts hereditary crests of his family."
The traditional hereditary rights to Wawadiťła are now the property of Martin's grandson, Chief Oasťakalagalis ´Walas ´Namugwis (Peter Knox of Fort Rupert). On the occasion of the 50th anniversary of Wawadiťła in 2003, another great feast took place in the house, hosted over two evenings by Chief Peter Knox and the Royal BC Museum. Like the opening feast, this was attended by many First Nations and non-First Nations dignitaries. A poster celebrating the occasion was created by 'Maxwa'yalisdzi (David Knox), Martin's great-grandson. It featured a design based on the Copper Max'inuxwdzi (Great Killer Whale) that belonged to Martin and which he presented to the Royal BC Museum in 1960.
Wawadiťła continues to be used for First Nations events with the permission of Peter and Mable Knox. It continues to be a place of meeting for urban First Nations people practicing their cultures, as well as a place where non-First Nations people can learn about these living traditions.

Carillon
In the Middle Ages, bells became part of Europe's religious soundscape. Travelling foundry workers cast huge bells on site for the great cathedrals. By the 16th century, the carillon had become a symbol of prosperity and achievement in Flemish and Dutch towns. The sounds of the bells were part of a town's daily order.
The Netherlands Centennial Carillon was a gift from British Columbia's Dutch community to honour Canada's 100th birthday in 1967. It is housed at the top of the tower, which stands 27 metres (90 feet) tall.
This carillon, the largest in Canada, has 62 bells. To play, a musician has to climb the 75 steps of the spiral staircase and then a 10-step ladder to sit at the clavier. There, the carilloneur depresses the clavier's keys and pedals to sound the bells and play a song.
The pitches of several bells commemorate specific events: D celebrates the founding of the Colony of Vancouver Island in 1849, E the founding British Columbia as a colony in 1858, and F-sharp their union in 1866; F rings for the Confederation of Canada in 1867 and G-sharp for British Columbia's 1871 entry into the Confederation; and G remembers Canadian soldiers who gave their lives for the liberation of the Netherlands, 1940-45.
You will hear the carillon playing automated seasonal themes throughout the Inner Harbor area on the hour between 10 am and 5 pm from October to March and between 10 am and 8 pm from April to September.
Rosemary Laing, Provincial Carilloneur, plays live concerts on Sunday afternoons during the summer months. Watch the "What's On Calendar" for listing and bring a picnic and come and sit in the Native Plant Garden to best enjoy the beautiful music. 
If you would like to talk to us about the carillon, have questions about the songs that are played or if you have a community event that you would like us to be a part of (or turn off for), please contact Kim Gough at kgough@royalbcmuseum.bc.ca or at 250-387-6034
Meet the Carillonneur
Check out this video with Rosemary Laing as she describes how she got started playing the carillon.
Name that Tune!
Curious about the name of a song you heard on the carillon? If you are stumped, find the name of a tune that you recognize. Note the time it is played and then work out the other songs from there. The playlist changes seasonally so check back when you need to.
April, May, June
Theme – Songs about Spring, Nature and Love
10 am – 8 pm                 
Mein Liebeslied muss ein walzer sein
Edelweiss
Aupres de ma blonde
Auf der Heide Bluh'n die Letzte Rosen
I left my Heart in San Francisco
Alle Jahren Wieder
All you need is Love
Alles Neu, Macht der Mai
I Just Called to Say I Love You
Der Fruhling Hat sich Eingestellt
Bye Bye Love
Der Mai ist Gekommen
Love letters in the Sand
Die Ganze Welt Ist Himmelblau
Love Me Tender
Ich ging durch einen grasgrunen wald
You are my Sunshine
Im wald, im grunen walde
Du bis das susseste madel der welt
In a Monastery Garden
Das Dreimaderlhaus
Spring Song - Mendelssohn                            

Thunderbird Park
Thunderbird Park was established in 1941 when a display of totem poles from the provincial museum's collection was set up at the corner of Belleville and Douglas streets in Victoria. In 1952, Anthropology Curator Wilson Duff initiated a pole restoration program and hired Kwakwaka'wakw master carver Mungo Martin as chief carver for Thunderbird Park.
Over a number of years, the original poles were moved to inside storage and replaced by replica versions carved by Martin and others working under his direction, including Henry Hunt and Hunt's sons, Tony and Richard. After Martin's death in 1962, Henry Hunt became chief carver, followed by Richard Hunt and the Nuu-chah-nulth artist, Tim Paul.
All of the poles now in Thunderbird Park were carved in the Carving Studio building there. All are versions of the originals with the exception of the heraldic pole in front of Wawadiťła and the more recent honouring pole by Sean Whonnock and Johnathan Hunt. Learn more about Thunderbird Park and its history here.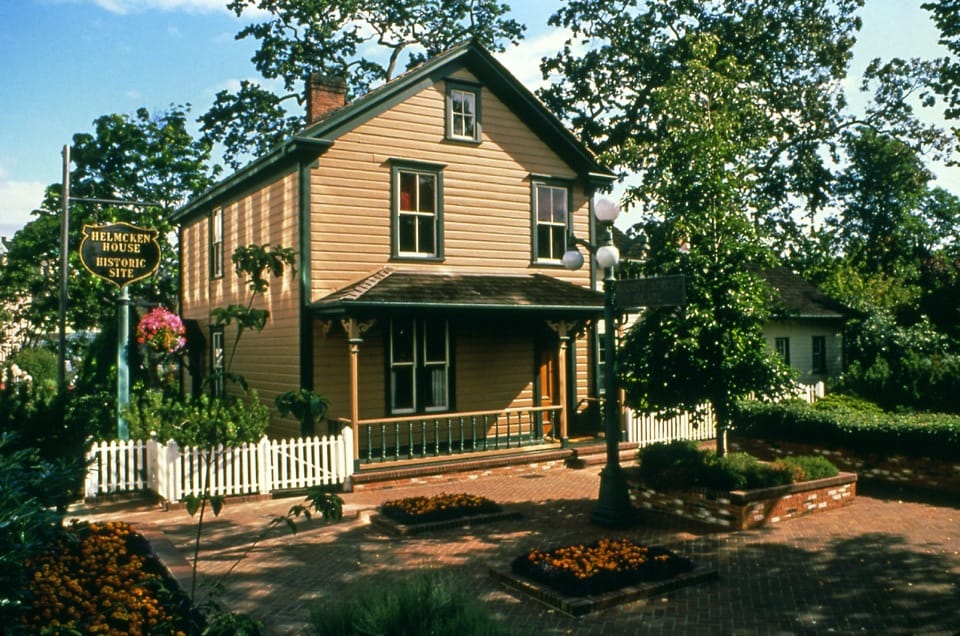 Helmcken House
Helmcken House was built by Dr. John Sebastian Helmcken, a surgeon with the Hudson's Bay Company. It is one of the oldest houses in British Columbia still on its original site. Dr. Helmcken set up house in Victoria when he married the daughter of Governor James Douglas in 1852. He went on to become a statesman and helped negotiate the entry of British Columbia into Canada, as a province. The good doctor's original 19th century medical kit is among the interesting items on display.
Helmcken House is open 12 – 2 pm during the summer and from 12 – 2 pm during the winter break.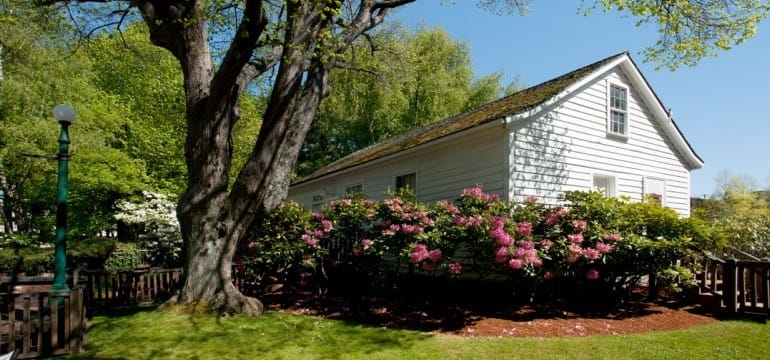 St. Ann's Schoolhouse
St. Ann's Schoolhouse may be the oldest building still standing in Victoria. Built by Jacques Lequechier in 1844 and constructed in the Hudson's Bay Company Red River style, it was purchased by Roman Catholic Bishop Demers in 1853 for use as a residence and a schoolhouse. In 1858, when four Sisters of St. Ann returned with Bishop Demers from Quebec, it was in this building that they lived and held their first school classes. The Sisters gave the school to the Museum in 1974 when it was moved to its present location behind Helmcken House on Elliott Square.