Shop In Store

The Royal Museum Shop
Finely crafted and unique, intriguing and informative—gifts from the Royal Museum Shop offer the best from the province of British Columbia. We carry items with a distinctly BC flavour, including books, art, jewelry, music, clothing and toys.
All proceeds from the sale of merchandise go directly towards supporting the many fine programs and special events at the Royal BC Museum.
Royal BC Museum Members receive ten per cent off all items. Learn more about Member Benefits.
675 Belleville Street, Victoria, BC, V8W 9W2
Phone: 250-356-0505
Email: shop@royalbcmuseum.bc.ca
National Geographic Store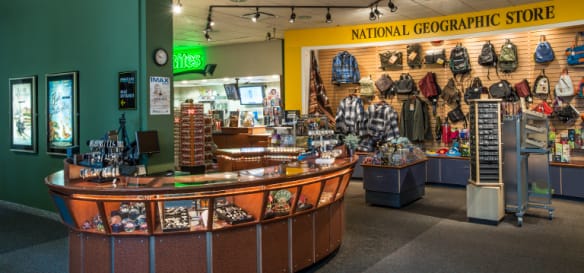 One of only three National Geographic Stores in Canada to transport the world and its wonders to you. Shop from a collection of unique and educational children's toys and games, exciting National Geographic books, magazines and DVDs of featured IMAX® and National Geographic films, including Sharks, Africa, Great Explorers and more.
Located inside the Royal BC Museum
675 Belleville Street, Victoria, BC, V8W 1A1
Phone: 250-480-4887, ext. 4
Email: mbecker@imaxvictoria.com