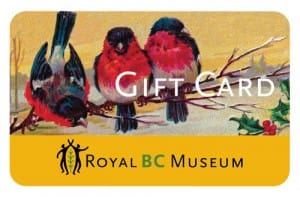 Great for friends, family members or business contacts. Available in any value. Purchase and pick up gift cards at the Royal BC Museum from 10:00 am to 6:00 pm, seven days a week.
Royal BC Museum gift cards can be redeemed for:
Admission tickets, Royal BC Museum
Royal BC Museum Memberships
Tickets to special museum presentations and workshops
Admission tickets, National Geographic IMAX Theatre
Print reproductions, BC Archives
Please note: Royal BC Museum gift cards cannot be redeemed for National Geographic IMAX Theatre Annual Passes. Gift cards are non-refundable.
You may check your gift card balance and record of transactions by entering your gift card number.
The Royal BC Museum gift card should be treated as cash; it cannot be replaced if lost or stolen. The card value may be used toward payment for the goods or services listed above; however, there is no cash return for purchases using the gift card. The card may be reloaded.
To contact a Royal BC Museum representative regarding any discrepancies in your gift card transaction report, please contact reception@royalbcmuseum.bc.ca. Please allow at least two business days for a response.