Stacey Baker battles boredom for a living. As director of recreation at the The Dorchester by Revera in Kelowna, BC, she knows the value of intellectual engagement for the 150 independent seniors living in her complex. So when COVID-19 brought activities to a "grinding halt" back in March—no more communal dining, field trips, or guest speakers—she scrambled to find a solution.
She started seeing digital ads for the Royal BC Museum's online learning programs, and quickly realized she'd found a perfect fit:  weekly lunch-time sessions via Zoom led by museum experts and guests, on a variety of interesting topics and in a variety of settings.
"We realized we could bring small groups together safely to watch on a big screen in our multi-purpose room. We started with a virtual walk through [Victoria's] Beacon Hill Park with [learning program developer] Liz Crocker—which was super appealing because it was a chance to be 'outside'—and we've been doing a different session every week since.
"At the same time, we serve a meal that is themed to the session—so for example, we ordered in sushi for the visit to the Japanese Cultural Centre, and bagels and schmear for the visit to the Jewish Cultural Centre.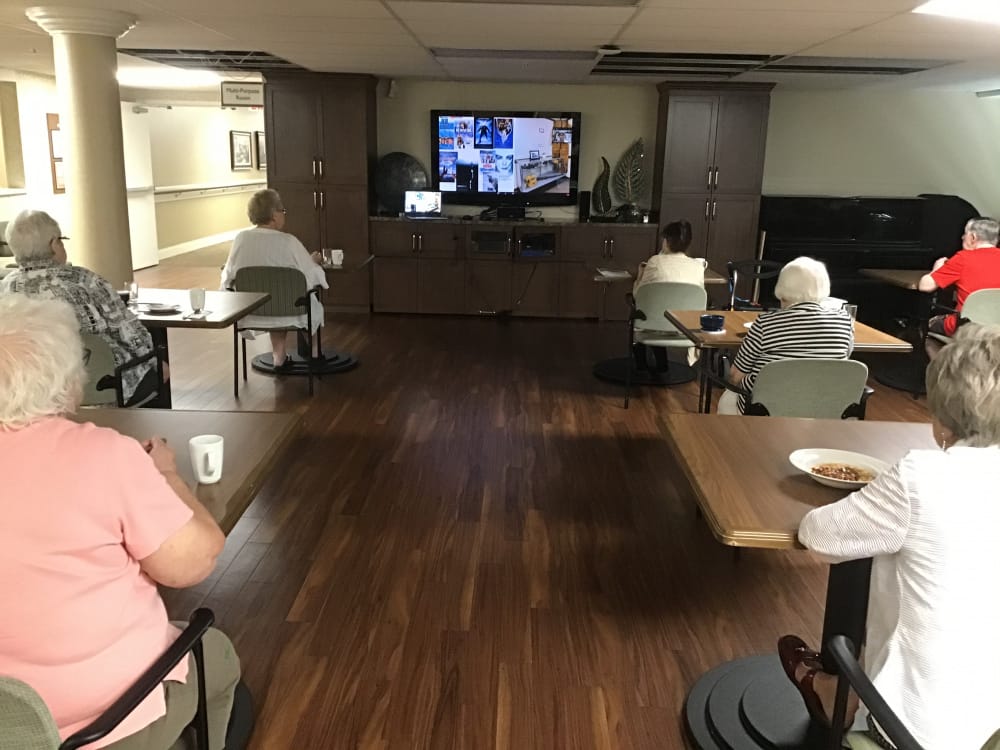 Baker is an enthusiastic ambassador for the RBCM @ Home programming, and urges other senior care centres to "give it a whirl! Winter is coming and it doesn't look like things are going to change for a while. This is definitely filling a void and it really encourages people to talk and engage more meaningfully. It's super easy to use—and it's free!"
That said, Baker is looking forward to a paid program in the fall—a 1:1 virtual tour of the Royal BC Museum collections tailored to her residents' interests. "They've lost a lot during this pandemic," she says. "Our worlds have shrunk and closed in, and these online programs have been a great bridge, and allowed for a different way to connect with people all over the province. I'd really like to see this all to continue even after COVID!"
Click here to learn more about RBCM @ Home and other online learning programs at the Royal BC Museum.
-30-