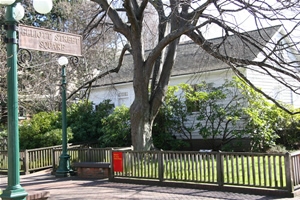 St Anns Pioneer Convent
Concerned for the welfare of French-speaking Catholic children in the burgeoning town of Victoria, Bishop Modeste Demers made plans for a new school. St Ann's Pioneer Convent opened June 7, 1858 under the leadership of four Catholic Sisters newly arrived from Quebec.
St Ann's was not Victoria's first school, which has opened in 1849, but it became one of the city's mst prominent educational institutions. The first building operated as a school until at least 1864. It was subsequently used to teach special classes, as a residence, as an isolation area in a small pox epidemic and for storage until it became a Heritage site. The Convent's historic importance was commemorated in 1933 and a marble plaque was installed. In 1974 the Pioneer Convent was moved to the Royal British Columbia Museum and in 1994 an exhibiiton celebrating the history of British Columbia's public education opened. The St Ann's Pioneer Convent may be the oldest building still standing in British Columbia.