Thunderbird Park was established in 1941. In 1952, the Royal BC Museum initiated a pole restoration program, welcoming Kwakwaka'wakw Chief Mungo Martin as Thunderbird Park's Head Carver.  The anti-potlatch law had been lifted in 1951, and the tradition of carving was coming back to life, with artists like Martin studying and replicating old poles.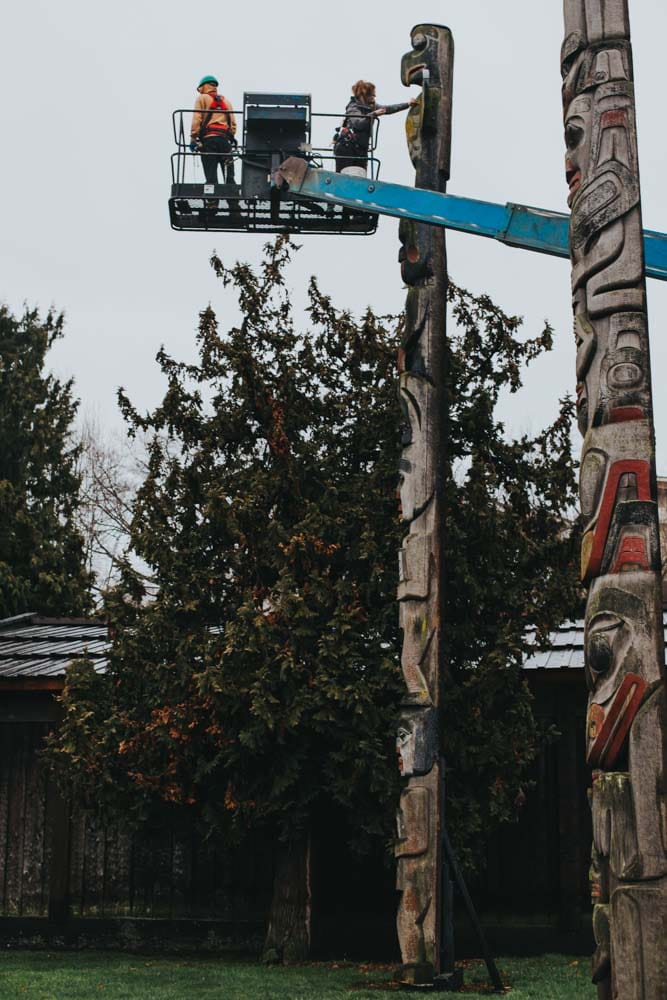 Some of the poles carved by Martin (and his protégés, all of whom were significant carvers) have been exposed to the elements for nearly seventy years. Many of these older poles now require extensive conservation work.
In spring 2019, Royal BC Museum staff and contractors completed seismic, engineering and conservation reports on the Thunderbird Park poles. Some of the metal braces holding up the poles had rusted. Attachments to appendages (like wings and beaks) were strained. Some poles, saturated with water, were rotting from the inside out.
As we learned this information, the Royal BC Museum consulted with the First Nations communities affected: the Kwakwaka'wakw community, to which Mungo Martin belonged; the nations that inspired his replica poles; and the local Songhees and Esquimalt Nations, on whose traditional territories the museum sits today.
With these communities the Royal BC Museum discussed which poles could bear conservation, which had reached the end of their lifespans, and what the most appropriate protocol might be to lay these poles down to rest. The museum worked with each community to understand the most appropriate path forward for each pole, in the spirit of consultation and repatriation.
The Royal BC Museum thanks the communities for their wisdom and guidance during this process.
Follow the links below for more information on the conservation of specific poles: