Research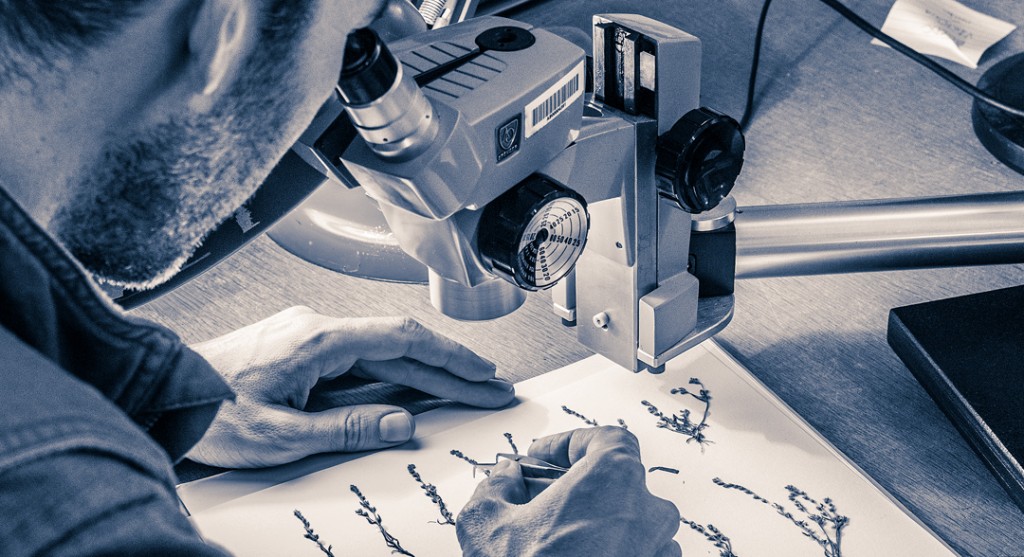 Research forms a key part of our mission at the Royal BC Museum. It is how we unlock the secrets to this magnificent land and the cultures that have flourished here. It helps us to be the best possible stewards of the human and natural histories of British Columbia. And it also guides us in sharing the story of this province, so rich in geography and culture, with the rest of the world.
Under the Museum Act, the Royal BC Museum is mandated to increase and communicate knowledge of the natural history and human history of British Columbia. Conducting sound research and communicating our results to the public through articles, symposia and special presentations is one of our greatest responsibilities. We are an educational organization – not a school, nor a university, yet we partner with these and other educational institutions to form a rich continuum of learning. Our work adds to the world's complement of knowledge about our province. Though our means may differ from those of other educational groups, our ends are the same – to foster critical thinking, to contribute to the creation of a civil society, and to instill a lifelong love of learning.
The Royal BC Museum is unique among other public institutions. Our purview is staggeringly broad. Not only are we constantly looking forward, making new scientific and cultural discoveries that contribute to our understanding of today and tomorrow, we're also deeply engaged in searching out answers about the past. We share our findings. We apply our knowledge and discoveries to this diverse and rich provincial collection we are charged with stewarding. And we interpret its stories for all who want to hear them.
Part of our research program sees us directing our focus inwards. The work of stewarding millions of priceless objects is never finished. Technological advances allow us to constantly improve our methodologies. Research by our conservation experts adds new dimensions to our knowledge about the objects in our care, resulting in better and more efficient methods and practices for treatment and preservation. In developing the museum galleries and exhibitions, we conduct in-depth investigations into BC's fascinating collections. Our curators create comprehensive information packages relating to each exhibition. Archivists scrutinize our holdings for data relating to the topic in question. Conservators analyze each object or specimen before it is placed on display. Each artifact and specimen is fully researched so we can share its most accurate – and riveting – story with our visiting public.
And we direct our focus outwards, too, in conducting other research. Whether we're investigating what ancient pollen grains tell us about BC's past climate shifts or how energy development has shaped human settlements through time, our research expands our understanding of this province – and the world beyond.
A passionate team of scientists, historians, archivists and conservators steers our dynamic and vibrant research program. Visiting scholars study our collections for their own research, and also add to our own knowledge. Our collections travel to researchers around the globe who study them and then return them along with new data. And, of course, our researchers collaborate with other experts to enhance the breadth and relevance of their work.
As our researchers explore the topics of the evolution of British Columbia's natural environment and the growth of human societies and cultures within that environment, our collections provide the foundation blocks upon which they, as researchers, begin to address major issues facing our society, such as climate change, developments in energy, and changes in social and biological diversity. The work of all these researchers contributes tremendously to our understanding of the natural and cultural processes that have made BC into what it is today – and what it may yet become.
In our research plan, we set out the Royal BC Museum research priorities for the coming year(s). Our plan outlines broad themes and specific program areas to address those priorities.
The plan provides a framework to guide research and balances initiatives with emerging issues and priorities. As stewards of the province's human and natural histories, we must not only tend to the past and present, but prepare for what's ahead.
We hope the plan makes it easier for members of the general public to see what we're investigating and what we hope to find out.
Outline:
The overarching aim and guiding tenets of research at the Royal BC Museum; two key goals that encompass all aspects of the BC Story; four guiding themes, from which derive thirteen programs that address problems, issues, knowledge gaps or challenges.
The aim of research at the Royal BC Museum is to broaden our understanding of the human and natural histories of British Columbia so that we can better understand our social and environmental context. As stewards of the provincial collection, we are responsible for learning from our past, sharing our understanding of our world in the present, and looking toward the issues that will impact British Columbians in the future.
Guiding Tenets of Royal BC Museum Research
Whether the Royal BC Museum decides to undertake a particular research activity or program will be based the following guiding tenets:
Research should explore issues that are significant to British Columbia.
Our job is to deepen our knowledge and understanding of things that matter to British Columbians now and in the future. This includes research projects that allow our researchers to collaborate with other expert partners, projects that build on existing strengths in the collection or those that are intended for the public good.
Research should be undertaken in consideration of how the collection will develop as a result.
The research plan allows flexibility to accommodate short-term projects developed in response to urgent issues, changing needs or community concern.
Sometimes we don't know what's going to come up within a given year. Our research plan is written with the understanding that smaller projects that pertain to the BC story will crop up and need our attention periodically. We recognize also that these projects inevitably enrich our knowledge base and enhance the development of our collections.
Funding for research projects must be available from core RBCM resources, grants, or other external funding.
Research project outcomes should be reported at regular intervals.
By updating our progress at least once a year, we will keep internal departments and the general public apprised of each project's outcomes. Projects will be broken down into long-term stages, plus specific measures to be achieved in the short term (i.e., within one fiscal cycle).

Threaded through our research projects is an acknowledgment of their importance to our telling of the BC Story. So many of our projects show how deeply entwined the human connection is with the natural environment. A study of the spread of an exotic species through south-central British Columbia leads us to recognize its human cause. Researching energy transitions and the current power grid leads us to think not only of how the resource industry developed through time, but also how industry has impacted the people, plants and animals who rely on the land. And so it goes.
It's a constantly evolving story. It's the story of this province and its history, but also of its people: their perspectives, their experiences, their communities. When we talk about a person, or a group of people, we're connecting them to a specific place. And when we talk of a specific place, we're connecting it to the people who call – or once called – that place home. The BC Story gives our research shape and purpose.
Theme 1: Describing how government functions, including First Nations government
Program 1: History of public service
Government plays a central role in British Columbia society and the documentation of government and the records it produces are critical to our understanding of British Columbia yesterday, today and tomorrow. By conducting research into the records arising out of the activities of government, and administrative histories of the bodies that create those records, we will document this history.
Program 2: The BC Government and other organizations
The BC Government interacts with a wide range of other governments and agencies. It is our intention to document the Province's relationship to these organizations and examine how it has evolved since Confederation, be it as a Crown Corporation, a municipal government, the Canadian Government or a community or business association.
Theme 3: Examining the larger processes of environmental change and history, as well as how and why they change
Program 7: Energy
Energy is basic to nearly every activity. Understanding how energy use has changed over time and studying the sources of energy – be it animal power, steam power or electrical power – helps us see where we have been in the past and where we are going in the future.
Program 8: Resources and industry
British Columbia's economy has for hundreds of years been dependent on our natural resources. By linking our resources to the growth of industry we can explain much of the changing human and natural landscape of BC.
Theme 4: Studying biodiversity
Program 9: Rare and endangered species
Research into the rare and endangered species of BC deepens our understanding of our rich biological heritage. Museum scientists contribute to this growing field by making and studying collections.  Knowledge gained from this research can inform the management, protection, restoration and conservation of these special species.
Program 10: Non-native species
Developing our knowledge base in invasive or exotic species helps us to understand distribution patterns, areas of particular vulnerability and impacts on indigenous organisms. By continually building upon this foundation of knowledge we can provide useful information to conservation officers and those in the field of species management. We're also helping to inform members of the public so that in turn, they can know more about what belongs in BC – and what doesn't. Our work here allows us to understand and raise awareness of the potential impacts of climate change on human communities and natural ecosystems.
Program 11: Paleo-environment of BC
Our research into past environmental changes reveals ancient landscapes, how plant and animal distributions have changed and the reasons for them. The evolving environmental also influenced how and where people lived. Our study of the history of the landscape, climate and plants and animals informs our understanding of the present-day and the implications of climate change. Our insights help identify gaps in our natural and human history collections and develop strategies to fill them.
Program 12: Taxonomy and phylogenetics
Basically, museum biologists study systematic biology (systematics), the field that (a) provides scientific names for organisms, (b) describes them, (c) preserves collections of them, (d) provides classifications for the organisms, (e) produces keys for their identification, (f) assembles data on their distributions (biogeography), (g) investigates their evolutionary histories and relationships (phylogenetics), and (h) considers their environmental adaptations. Taxonomy, narrowly defined, deals with functions a and b, but we can include classification and identification and other aspects here.
Program 13: Diversity
Museum biologists frequently assemble taxonomic, distributional, life-history, ecological, behavioral and other biological information on species and groups of species. This information goes into field guides, handbooks, annotated lists, and so on. Such products are important in the basic documentation of the province's biological diversity. They are useful to, and popular with, scientists and the general public alike.