Event Starts
January 27, 2016 7:00 pm
Event Ends
January 27, 2016 8:30 pm
Cost
Free, registration required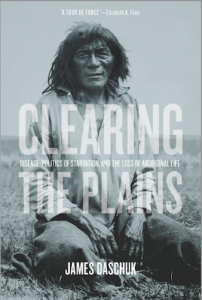 Join James Daschuk for a discussion of his book, Clearing the Plains, which examines the roles that Old World diseases, climate, and most disturbingly, Canadian politics-the politics of ethnocide-played in the deaths and subjugation of thousands of aboriginal people in the realization of Sir John A. Macdonald's 'National Dream.' It was a dream that came at great expense: the present disparity in health and economic well-being between First Nations and non-Native populations, and the lingering racism and misunderstanding that permeates the national consciousness to this day.
The event is Free but registration is required. Click HERE to register. 
This event is presented in partnership with Canada Council for the Arts, Capital Regional District, University of Victoria Department of Writing, Open Space, Open Word: Readings & Ideas

About the Speaker
Author James Daschuk is a professor at the University of Regina in the Department of Kinestheology and Health Studies. His research focus is on the impact of environmental change on the health of indigenous people. His historical work investigates the role of disease, changes to subsistence practices and climate change in the historical development of western Canada. His book, Clearing the Plains is a national best-seller.
"Required reading for all Canadians." -Candace Savage, author of A Geography of Blood
"Clearly written, deeply researched, and properly contextualized history…Essential reading for everyone interested in the history of indigenous North America." -J.R. McNeill, author of Mosquito Empires
Royal BC Museum

|||::

675 Belleville St, Victoria, BC V8W 9W2